What kind of position are you looking for?
Faculty – All Disciplines  -Position listings on Higheredjobs including part-time openings
Part-time Instructor/Adjunct Faculty – Contact your content area department directly to inquire about opportunities.  Positions are also available with the Division of Professional Studies.
Student Positions are posted on Handshake.
Looking to post a position?
Employers:
Positions for students, recent graduates and alumni may be posted on the Career Center website.  Please visit: http://careers.umbc.edu/employers/jobs.php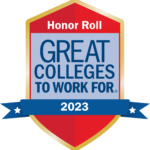 Some UMBC positions require successful completion of a background check.
UMBC is an Equal Opportunity Affirmative Action Employer.
As an institution that receives federal financial assistance, UMBC adheres to Title IX and does not discriminate on the basis of sex. For more information about Title IX and contact information for Title IX Coordinator click here.
As required by the 1986 Immigration Act, be prepared to present acceptable documentation upon hire showing your identity and that you are a U.S. citizen or an alien who is authorized to work.
In accordance with the federal law, identified as the "Jeanne Clery Disclosure of Campus Security Policy and Campus Crime Statistics Act of 1998," by this notice, the UMBC Police is disclosing the availability of the UMBC Annual Campus Security Report (Clery Report) to all applicants.  Paper copies of the report are available by request by contacting the UMBC Police Department at 410-455-5555, emailing police@umbc.edu or on the UMBC Police website at:  https://police.umbc.edu/asr/
In addition, according to various federal laws and regulations, including The Higher Education Act of 1965 (HEA), as amended by the Higher Education Opportunity Act of 2008 (HEOA),the University of Maryland, Baltimore County (UMBC) makes available to prospective and current employees information on policies and disclosures related to alcohol and substance abuse.